2021 Parade Of Sheds
The

21st annual

"

Parade of Sheds" takes place

Sunday, September 12th

from

1-4 PM
We look forward to seeing everyone at this fun and festive neighborhood event.
The Parade of Sheds returns this year beginning with group participation walk and bike parade.

The parade begins at the climbing boulder by the Historic Depot.

After the parade, there will be a self-guided walking tour of the neighborhood, featuring new and classic stops like a treehouse platform, License plate exhibit, graffiti art and more.

All are welcome to join; bring costumes, musical instruments, strange pets or other oddities.

NENA will be hosting a table at the Climbing Boulder. Stop in to say hello. Stop in to grab a "Last Best Neighborhood" Sticker! Stop in to grab yard signs and other swag from the City of Bozeman.

Let others know you will be participating by following along on Facebook at:
https://www.facebook.com/events/248110623799693
Be sure to tag your Insta Images:
https://www.instagram.com/nenabozeman/
This years theme is "THERE GOES THE NEIGHBORHOOD"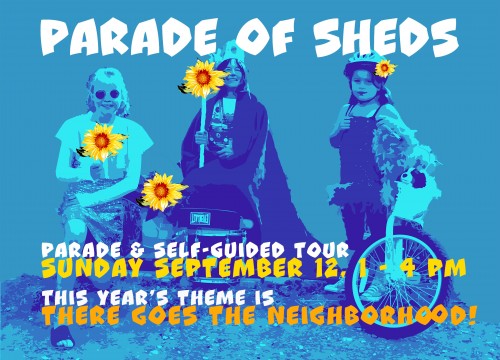 Affordable Housing Code Assessment
Wednesday, September 15, 2021
5:00 to 6:00 PM
Join the project team on Wednesday Sept 15th at 5pm to dig into the draft of a review of the City's Unified Development Code. The review is to identify barriers in the code to the creation and preservation of affordable housing and make recommendations for code changes. The City of Bozeman is seeking public comment on the draft Affordable Housing Assessment.
Meeting number (access code): 2551 943 7541
Call-in number: Dial +1-650-479-3208 enter access code: 2551 943 7541

NENA Townhall: Idaho Pole Update with the EPA & DEQ
Stay tuned for more information
October 2021: Bozeman Creek Clean-up with the Upper Missouri Waterkeeper
October/November 2021: NENA 2021 Fall Newsletter
November/December 2021: NENA 2021 Fall/Winter Meeting


2021 NENA Summary


April/ May 2022: NENA Tree Planting with the City of Bozeman


May/June 2022: NENA Spring Clean-up


May/June 2022: Spring Newsletter
May/June 2022: Spring Meeting
Start President and Vice President Election Process
September 2022: Parade Of Sheds
October 2022: Bozeman Creek Clean-up with the Upper Missouri Waterkeeper
October/November 2022: Fall/Winter Newsletter
November/December 2022: Fall/Winter Meeting
President and Vice President Election Process
2022 NENA Summary