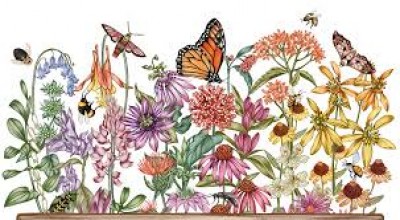 GARDENING FOR POLLINATORS- by Beth MacFawn
Growing native plants is one simple way we can encourage pollinators to flourish in our own back yards (or front yards!).
By providing over lapping bloom times throughout the growing season, minimizing pesticide use, and planting native trees, shrubs and perennials, we can provide habitat and nectar for these little ones.
Resources:
1. https://xerces.org/pollinator-conservation/habitat-restoration
2. Native plant list for our county can be found on the Montana Native Plant Society website:
https://www.mtnativeplants.org/wp-content/uploads/2018/07/Calypson-Chapter-Native-Plant-Landscaping-in-Southwest-Montana.pdf

3. The NRCS created a pamphlet for attracting pollinators in Montana: https://www.mtnativeplants.org/wp-content/uploads/2018/07/mtpmcbr11694.pdf

4. City of Bozeman provides a rebate for planting drought tolerant plants, and includes our Montana native plants: https://www.bozeman.net/home/showpublisheddocument?id=5795

*NENA resident Beth MacFawn provides
exceptional signature designs and quality installation since 1988.
She offers
landscape design, native plantings, project coordination, garden maintance and container design. Visit her website for more information.