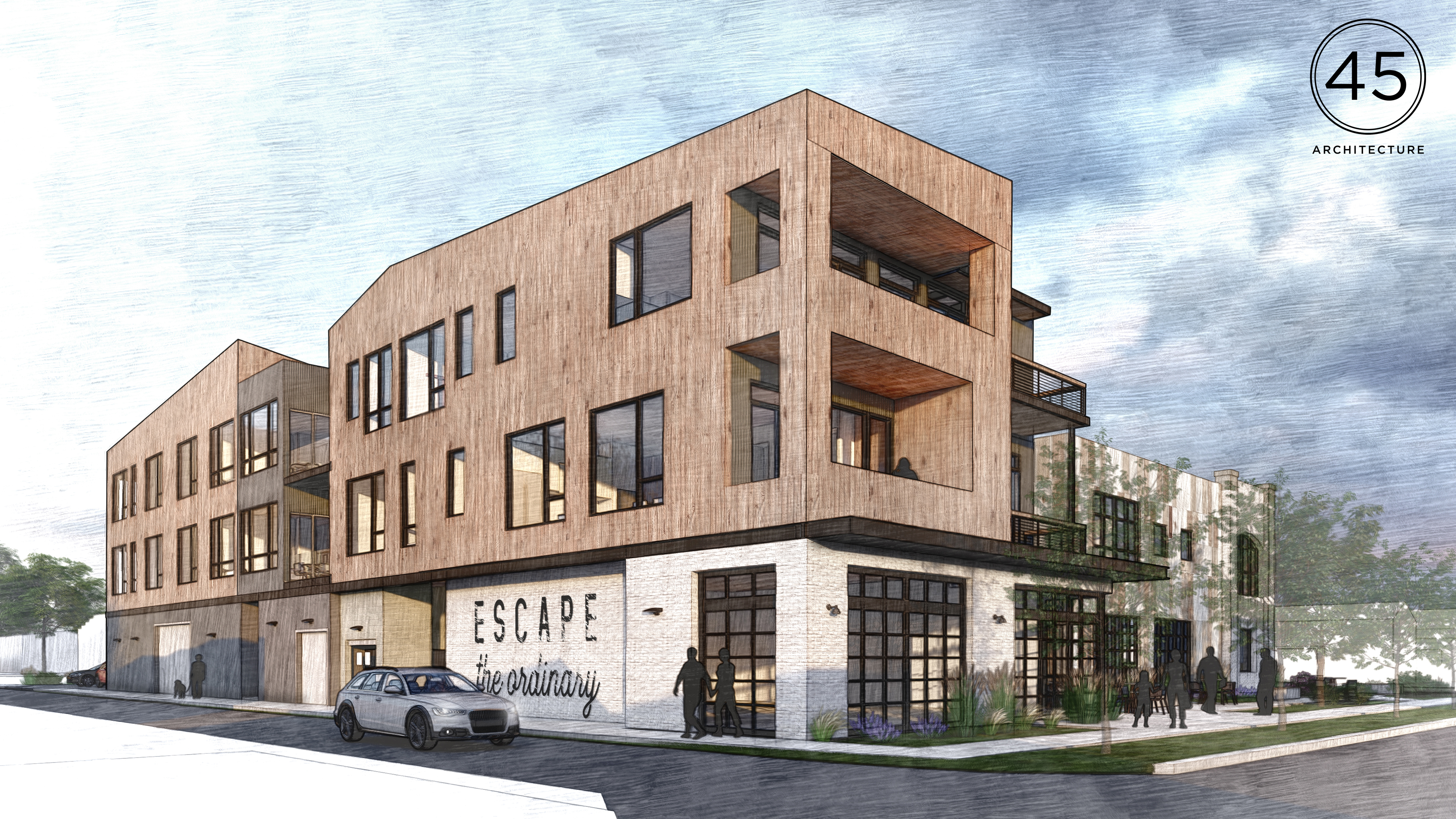 The Wild Crumb Building will be redeveloped. The project addition is a 4 story mixed use development with public commercial spaces, office lease space, and 15 high end residential units. (See below for more information from 45 Architecture) Included in the project is an upper level public access elevated park and plaza space surrounded by existing and new building program. This project aims to maintain and enhance the social community presence of the site, while providing public out door space for the neighborhood. The developer will spend one-hour with NENA Members to talk about the project.
Project Narrative
WILDLANDS DEVELOPMENT
The Wildlands is a placemaking development that focuses on how to create expansion and diversity, while taking cues from the renowned northside neighborhood. The development is a
planned renovation and expansion of the existing Brown Building, located on the northeast corner of Peach Street and Wallace Avenue. The renovation will add community and social retail spaces and single-family residences.
The proposed project pulls precedent from the past and present of the unique historic brewery district. With the historic mills, manufacturing, distributing, and railroad, paired with single family neighborhoods; this is an area of an industrial nature coupled with high creativity and adaptation engrained in its culture.
From the primary corner, the proposed building wraps the existing Brown building, so that the proximity and scale are relative to the existing building. Breaking up the mass of the new building helps minimize the height, and using brick relates the materials back to a neighborhood scale of textures.
Pulling from distinctive characters of the neighborhood, art and a sense of storytelling is the focus for the node at the center of the project. This centerpiece is a partially covered public plaza and fireplace along Peach Street, that allows for interaction between the improved public walkways and the existing business patrons and proposed residences. It is this node that allows for a sense of community and art to interact that increases the livability of the neighborhood. The fireplace, like in most homes is the heart of the residence, as is the intent for this storied block in Bozeman.
Special care is being taken not to impact the vibrant public spaces around the existing site. The intent is to only improve on them and enhance current establishments' opportunities and provide the community with more engaging spaces.