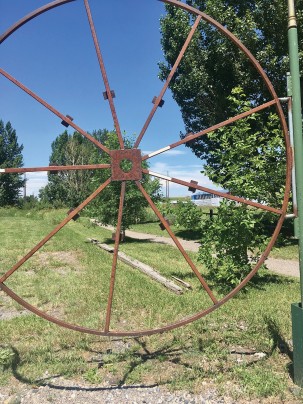 The Trails and Open Space commitee concentrates on the development of new trails within the neighborhood and appropriate connections to other trails and amenities. It can also assist with the general upkeep of existing trails such as garbage collection during Bozeman's Clean Up day. If you would like to be involved in this working group, please write ​NENABozeman@gmail.com or update your profile.
---
Front Street Pathway
The northeast neighborhood is soon to have a long-anticipated pedestrian and bicycle pathway connecting at Oak St and Rouse Ave. Starting at the Depot Trail on North Wallace, the new Front Street Pathway will follow the unused Front Street right of way, cross Bozeman Creek, and connect with Rouse. The project includes constructing a new 50-foot bridge crossing the creek and creating an asphalt, multi-use path that connects with the Story Mill Spur Trail, Story Mill Community Park and the Path to the "M." Gallatin Valley Land Trust extends its thanks to northeast neighborhood residents and NENA for supporting the project, which is a cooperative project of GVLT and the City of Bozeman. The project was initially approved for funding from the Trails, Open Space and Parks (TOP) bond in 2015 but was delayed until MDT completed the Rouse Ave project. Now that Rouse is complete in the area, the pathway project can move ahead! Neighborhood support was critical to approval of additional funding by the City Commission on October 13 th . The Commission agreed that this project is an important link in the City's trail system. The City is administering the project. Construction is anticipated for summer 2021.